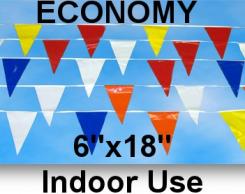 Our economy 6×18 Pennants are made of 4-mil polyethylene.
They are for short term promotional use only.
Works best indoors, they are highly susceptible to inclement weather.40 pennants are sewn on a 60 ft.nylon rope.Each pennant is 6 inches wide x 18 inches tall.There are 3 ft. ties on each end.
https://www.featherflags.com/product/Economy-6×18-Indoor-Pennants-60-Feet.–p-6-60-23787/