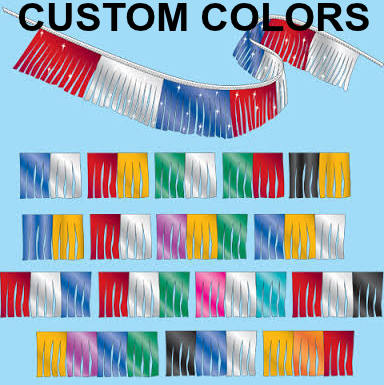 Outshine Your Competition!
Made of brilliant, shiny metallic plastic, 12″ x 3/4″ strips are sewn side by side on a nylon rope.
When choosing a pennant that has more than one color, The sections alternate every 18 inches.
There are 3 ft. ties on each end.
Design your own custom pennants by entering the colors you want into the box above separated by comma.
Example: red, blue, yellow, green
The 10 colors you can choose from are: red, silver, blue, gold, green, purple, black, orange, turquoise, and magenta  
https://www.featherflags.com/product/-metallic-fringe-pennants-custom-colors-60ft-750-23799/